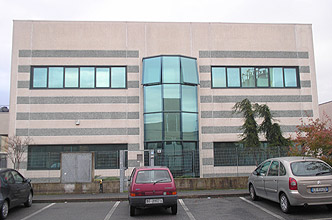 Tecnocompass is a well-established and dynamic Italian compass manufacturer well known and respected worldwide for its quality and competitive prices and for the reliable customer service.
Its origins date back to 1912 in the Alessi family in Palosco, a small village near Bergamo in Northern Italy. The company has been known with the family surname for two generations up to the early 1980's when it was renamed TECNOCOMPASS. This has coincided with a rapid modernization and production automation alongside a decisive penetration of foreign markets.
The market evolution in the last 10 years has seen the advent of new Asian compass manufacturers on the world scene creating new strong competition but also opportunities for European producers. Tecnocompass, still a family business, is closely monitoring this market evolution and always looking for interesting forms of cooperation with reliable partners worldwide. And this process will shape our company's future.
WE HAVE ARRANGED OUR COMPASS SETS IN 3 SEPARATE GROUPS.
THE TECHNICAL LINE IS OUR OFFERING FOR PROFESSIONAL TECHNICAL DRAWING AND HIGH SCHOOL. COMPASSES ARE MAINLY IN BRASS AND ZINC ALLOY, OF A TRADITIONAL DESIGN AND SHAPE. THE LATEST ADDITION TO THE RANGE HAS A MORE INNOVATIVE DESIGN AND IS AVAILABLE IN DIFFERENT COLOURS AND FINISHES.
THE SCHOOL LINE IS SUITABLE FOR THE LARGER LOWER SCHOOL SECTOR AT NATIONAL AND INTERNATIONAL LEVEL WITH A WIDER OFFERING OF SETS. COMPASSES ARE ALMOST ALL IN ZINC ALLOY, IN ATTRACTIVE COLOURS AND NICKEL FINISH, WITH A MORE APPEALING PACKAGING FOR YOUNGER STUDENTS.
THE BUDGET LINE IS OUR ENTRY LEVEL MAINLY FAVOURED BY MANY INTERNATIONAL EMERGING MARKETS WHERE PRICE IS EXTREMELY IMPORTANT AND COMPETITION VERY STRONG. NEW ATTRACTIVE DESIGNS WITH GOOD FUNCTIONALITY HELP US TO COMPETE IN THESE DEMANDING MARKETS.